Here is the good news: the documentary Dai Pai Dong that I did with a team is selected for International Students' Film Festival in Mumbai, India.
好消息:我此前和一个团队共同拍摄的纪录片《大排档》被选入即将在印度孟买开幕的国际学生电影节了。
And the bad news: I went to the place where the dai pai dong was located, hoping to celebrate, only to find out that it was gone.
以及坏消息:前几天去了拍摄的盛记大排档曾经所在的位置,希望去庆贺一下,结果发现,它已经消失了。
We recorded history.
我们就这样记录了历史。
Just to put a photo here, a photo of us shooting the boss of the dpd, as a memory.
在此存放一张当时拍摄时的工作照,图中的我们正在访问盛记的老板。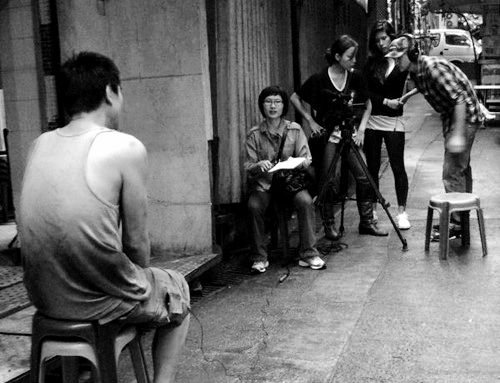 And below is the information about the festival, which I am not going.
下面是关于这个电影节的介绍,虽然我自己无法成行。
International Students' Film Festival in Mumbai, Sep.24
Film and Television Institute of India (FTII) will host a five-day "International Students' Film Festival" at its campus in Pune from September 24.This will be the first ever such event being organised by FTII.The festival will screen about 50 movies from film institutes in India and abroad. The screenings of the student films will be held at the auditorium of the Institute as well as National Film Archive of India, according to an official release here today.
As many as 25 film institutes have already confirmed their participation. Among them are Beijing Film Academy, China: Royal College of Art, London: HF University of film and television, Munich: Chapman School of Film and Video Ngee-Ann, polytechnic, and others, the release added. The awards for three categories each–fiction, non-fiction and animation will be given on the concluding day of the festival.Mr Reinhard Hanff (Germany), Ms Bina Paul, Ranjan Palit and Gitanjali Rao are members of the jury for the festival.